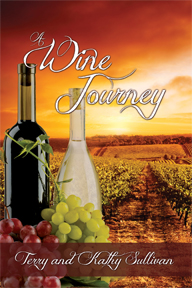 Infinity Published printed the book on November 9, 2012. It is now available for purchase on their website, Amazon.com, Barnes&Noble.com, Books-A-Million, and Powell's City of Books.
The Book: A Wine Journey
Millions of people drink and enjoy wine. How and when they came to an interest in wine is varied. For some, their wine journey may have started early, for example learning to walk holding on to a Grandfather's pants leg as he tends the barrels in the family winery. Others may come to wine while working in a restaurant and wanting to better inform patrons about the wine list. People in many countries see wine as a food to be drunk when eating. A wine journey may come later in life, as is the case for the authors, Terry and Kathy Sullivan. Anyone can go on a wine journey. All that is required is an interest in wine.
A Wine Journey looks at the trek of the authors as they learned about wine in different venues. The book continues with Terry's and Kathy's attempts of making wine, both at home and at wineries. Their journey recalls experiences they had while visiting and writing about over 850 wineries. Anyone can follow the same journey whether it involves wine learning, winemaking or wine travel. Discover the Sullivan's journey in A Wine Journey, then go out and start or continue your wine journey.
Purchase book information
- Individuals
- Wineries and book stores