About the Authors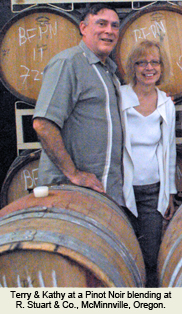 Terry and Kathy began second careers as wine travel writers, establishing Wine Trail Traveler in 2007. By summer of 2012, they visited 850 wineries and vineyards in three of Italy's wine regions, England, Wales, New Zealand, Canada and 20 states. Along the way they have taken thousands of photographs and notes and written hundreds of articles. They discovered every winery has a story to tell and the Sullivans want to help get their stories out.
Formal wine education included intermediate level course from Wine and Spirits Education Trust (WSET) and online winemaking courses through Washington State University. In 2009, Terry and Kathy crafted a barrel of Cabernet Sauvignon at Virginia's Vint Hill Craft Winery and at Tin Lizzie Wineworks in Maryland. During Spring 2010 they helped to plant an experimental vineyard at Tin Lizzie Wineworks.
In 2012, the couple met Sherri Wolkolski at the International Food, Wine and Travelers Association (IFWTWA) annual conference. Sherri encouraged them to write a book believing they had a story to tell and would have an audience for their first book, A Wine Journey.
Presentations
The couple is experienced at speaking with the latest presentation at the 2012 International Wine Tourism Conference (IWINETC) in Perugia, Italy, when Terry, presented "Best practices for increasing traffic to wine regions." They have been asked to present at the 2013 IWINETC in Zagreb, Croatia.
Note: While writing A Wine Journey, Terry and Kathy developed outlines for four additional wine-related books.
Purchase Individuals

Wine Trail Traveler Online Bookstore


Purchase Wineries and book stores