About the Book, A Wine Journey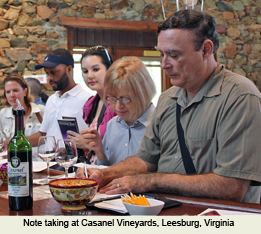 A Wine Journey portrays Terry and Kathy Sullivan's journey into the world of wine. Discover how they accidently came to the wine world, found the ambiance of tasting rooms and learned about forgotten grape varieties. Along the way, they decided that if they were going to write about wine, they should also make wine. A Wine Journey describes their winemaking successes, as it takes a behind the scene look at the winemaking process. Travels took the authors to three continents. Readers will discover winery heartrending stories of loss and stories of triumph and camaraderie.
A Wine Journey will help you to know what you are missing by driving past all of those winery tasting rooms. Readers discover wine learning options, winemaking possibilities and wine travel destinations. Readers will discover that the authors are ordinary people who share their wine experiences. The readers can have the same experiences. A Wine Journey offers an abundance of ideas that wine enthusiasts will enjoy.

Purchase book information
- Individuals
- Wineries and book stores